Development
Streams
We are known for our efficient working to provide quality products at competitive costs in the committed time to our global customers. Our company is WHO and GMP certified. All department heads up to the Managers, maintain and follow Quality Management System are guided and coordinated by the Quality Assurance Executive (ISO Certified). The Quality Management Assurance ensures that all procedures are as per the standard operating procedures.

We take pride in our manufacturing base that keeps the quality and good health of people at the centre of our business policies. We believe in technological progress and scientific advancements and continually transform our methods to deliver high-quality technology-intensive products. Taking the principle of a healthier world forward, we use path-breaking technologies to strengthen our presence and credibility in the domain.
Business - Network Channel
Distribution
Network Channel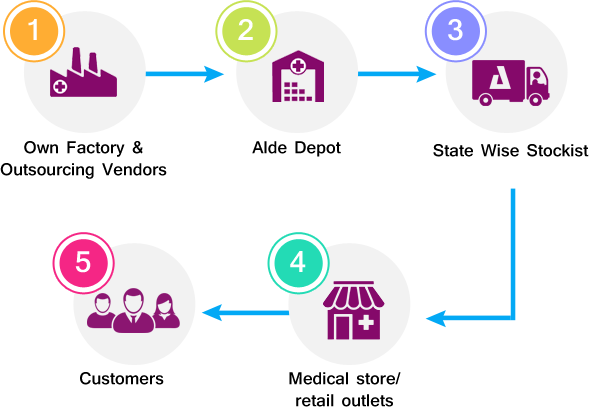 Lucknow
Gaziabad
Moradabad
New Delhi
Jammu & Kashmir
Indore
Business - Brand Expansion
Pharma
Brand Expansion
We intend to have our distribution covering across the country. We have a tradition of conquering uncharted territories. Our company has taken the risk and challenges at every step of expansion and our spirit of organization has led to some of the amazing achievements. Adding to the international character and class of the company, our name and innovative products are finding increasing recognition and acceptance in the global market.
We relentlessly strive towards creating and implementing solutions that will further enhance our services, our deliverables for our valuable customers, clients, and consumers. Expansion to the international market – Bhutan, Vietnam, Philippines, Sri Lanka, Uzbekistan, Kazakhstan, Ghana, Nigeria, Togo, Benin, Mali, Senegal.